WORKING IN SAFETY & COMFORT
In 2001, ETI introduced our OREX™ line of products to the nuclear power industry. Since that time over 80% of the nuclear facilities in the United States have adopted OREX™ as their protective clothing of choice. We've applied that same knowledge in our new Xposure Guard™ line of protective outer wear.
We believe after a close inspection you will find that Xposure Guard™ garments will offer your workers the best fitting, most comfortable garment available. From experience we know that garments that fit properly and provide ample range of motion lead to fewer rips, tears, and failed garments. Eastern Technologies has built into the Xposure Guard™ garments a more generous amount of fabric in key areas to virtually eliminate tears and allow for the most free range of motion available on the market.
ETI is uniquely positioned to provide the technical support you deserve. If we have not tested for your particular hazard we have a contracted 3rd party laboratory waiting on standby. Good or bad, you will have answers quickly.
While no corners have been cut with regard to the fabric, design and manufacture of Xposure Guard™ garments there is no danger of exceeding your budget for protective clothing. Not only will Xposure Guard™ garments reduce the need to replace torn and damaged garments, but the upfront price is competitive with any other similar garment currently available.
Contact us using the form below to request more information or free product samples.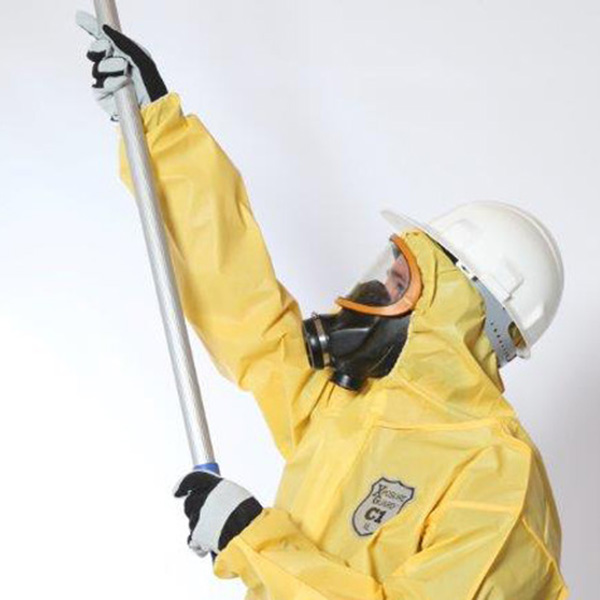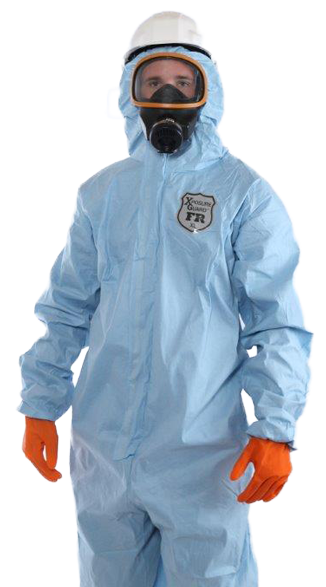 Advantages of Xposure Guard™
Xposure Guard™ customers get a superior, more durable product priced competitively with other, less durable products on the market.

Comfort
Xposure Guard™ products are designed to be the best fitting, most comfortable garment available.
Best FitTM
Xposure Guard™ offers unparalleled range of movement, comfort and protection for the worker.
Protection
Xposure Guard™ is made with only the highest quality fabrics, enabling our garments to offer your worker maximum protection.

Cost Savings
Xposure Guard™ garments are competitively priced with a reduced need to replace torn and damaged garments.

Full Length Zipper
Xposure Guard™ garments incorporating an attached hood are designed with a zipper that extends to the wearers chin. This design improvement eliminates the need to "tape closed" the gap left between the top of a standard length zipper and the workers chin when the attached hood is worn over a respirator.
WE ALSO PROVIDE CUSTOM SOLUTIONS
ETI can help create prototypes for companies seeking reliable and innovative product development services. We can manufacture small runs of these specially developed items in the U.S. or, for larger volumes, with our Chinese or Vietnamese factories.

Microporous Protection
Tough and highly breathable (MVTR) fabric manufactured to our BEST FIT design provides workers with economical, comfortable protection. XPOSURE GUARD MP garments are designed for wet or dry environments to protect workers from hazardous contaminants and/or non-hazardous dirt, grime, splashes and spills. Our BEST FIT design delivers unequaled comfort, movement, and enhanced protection.

Flame Resistant / Water Repellent
XPOSURE GUARD FR fabric delivers excellent protection and comfort in our BEST FIT design. In areas where either hazardous or non-hazardous materials are present, XPOSURE GUARD FR garments help eliminate infiltration of grease, grime and other contaminates when worn over primary fire-resistant clothing. The enhanced mobility of our BEST FIT design provides unmatched comfort and protection while reducing strain on the garment and seams.

Chemical Splash Resistant
XPOSURE GUARD C1 Heavy-Duty barrier fabric built to our BEST FIT design offers an unparalleled range of movement, comfort and protection for the worker. XPOSURE GUARD C1 garments are engineered to help shield workers from exposure to a range of harmful chemicals. BEST FIT design provides extraordinary protection and comfort through freedom of movement and reduced stress on garments.
Contact us for more information or product samples

334-899-4351

334-899-2310